Adcolor, an organization that celebrates and advocates diversity in the creative technology industries recently chose Droga5 as its creative agency of record to the dismay of many BIPOC professionals in the advertising community.
The appointment announced just as the nonprofit approaches it's 15th anniversary, has received tremendous blowback from notable executives who believe the company missed an opportunity to include diverse representation.
On LinkedIn Walter Geer, an executive creative director at VMLY&R asked Adcolor CEO Tiffany Warren to clarify why the organization did not choose a BIPOC or minority-owned agency to represent the creative account.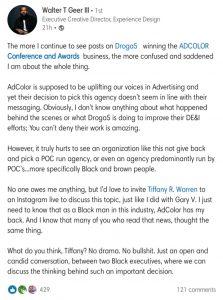 Geer's post, which received more than 300 likes and 100 comments in a few hours, continued to receive support from the advertising community who shared his sentiments.
"Exhausted. Frustrated. Disappointed. This decision and the heavy announcement around it were a blow to the culture, to the community, to all creatives of color and to Adcolor's credibility," wrote Gabrielle Shirdan, vice president, creative director at McCann NY.
Dabo Che, CEO at CHE Creative, also wrote in, "ADCOLOR Conference and Awards cannot be a shell for holding companies and general market agencies to hide behind -A haven to make themselves feel good about diversity. Truth be told, they've rarely celebrated BIPOC owned businesses. More often than not, it's BIPOC talent working in the big house. This should be about ownership, empowerment, and leverage. I don't see that here."
This isn't the first time Adcolor, who is dedicated to uplifting and advancing minority talent in the creative industry, has been called out for overlooking its diversity, equity, and inclusion pledge.
Last fall, Nathan Young, co-founder of 600 & Rising, a nonprofit founded after 600 Black advertising professionals signed an open letter demanding urgent action from agency leadership regarding systematic racism in the industry, resigned from his role as president of the organization following backlash for his comments on Adcolor.
Young tweeted, "@ADCOLOR is an awards ceremony completely divorced from reality that sells the story that progress is being made on diversity in advertising and buys cover for holding companies."
While some on Twitter agreed with Young's criticism, several diversity advocates criticized him for speaking against Adcolor and its founder Tiffany R. Warren.
Young, who is now head of strategy for Chicago at Deloitte Digital joined the conversation on LinkedIn in support of Geer's post in the comments. Young wrote, "This is a conversation that needs to happen… Glad you're keeping it real."
When asked in the comments if he should be commenting again on Adcolor, Young replied, "I said what I said and paid the price gladly. Staying out of it this time around, but good to see people finally taking a harder look."
Geer declined to provide comment to Marcom Weekly but told Campaign US that his intent with the post was not to take a shot at Warren specifically but to have a broader conversation about transparency.
"I think it's fair to ask, can we understand a little bit more about how this occurred?" he asked. "Because as one of the largest black organizations in the country, that has so many Black and brown people that follow her lead and even aspire to be her, when we're in a place now for the past 11 months where we've all said we need to commit to doing more, this was a perfect opportunity to lead by example."
Adcolor did not respond to requests for comment in time for publication.
It is unclear if Geer reached out to Warren prior to his posting on LinkedIn.