Editor's note: Today, on World Ocean Day, Brand&Culture takes a deep dive into brand partnerships for a cause. This special piece explores Rozalia Project for a Clean Ocean's collaborative marketing strategies and success with Patagonia, Preserve, and RELiON and reveals an upcoming summer partnership.
The brand
At Gloucester Maritime Center in Massachusetts on a windy, rainy school day, a smattering of kids' hands spring up in response to a question about how plastic bottles and bags make it into the ocean. The 4th graders, on a field trip from East Gloucester Elementary, are participating in an education program with the Rozalia Project for a Clean Ocean, an environmental non-profit working on solving the global challenge of marine debris. These coastal kids are ready with several correct answers apiece. "Plastic bottles get blown by the wind!" "Sometimes, seagulls pick trash up by accident and carry it to the harbor." "People litter and then it rains and the water takes the trash to the ocean." The children seem to have the benefit of a hometown on the ocean, giving them a familiar, shared understanding of the impact of trash on the marine environment, but the proficiency they've grown up with isn't common knowledge across the U.S. That's the problem the Rozalia Project works to solve.
Marine debris is a global crisis. It's defined as any persistent solid material that is manufactured or processed and directly or indirectly, intentionally or unintentionally, disposed of or abandoned into the marine environment but plastic waste is the most prevalent, making up 80 percent of all marine debris. According to the International Union for the Conservation of Nature, at least 14 million tons of plastic end up in the ocean each year. A report from the Ellen MacArthur Foundation estimates that by 2050 there will be more plastic in the ocean than fish.
"The ocean plastics problem is ubiquitous," said Ashley Sullivan, executive director of the Rozalia Project for a Clean Ocean. "Plastics are used to make so much of our modern consumer goods, so it makes sense that they are the biggest percentage of marine debris. We're talking about everything from consumer products packaging to abandoned fishing gear, on down to the smallest microplastics, including microfibers that shed off of our clothes."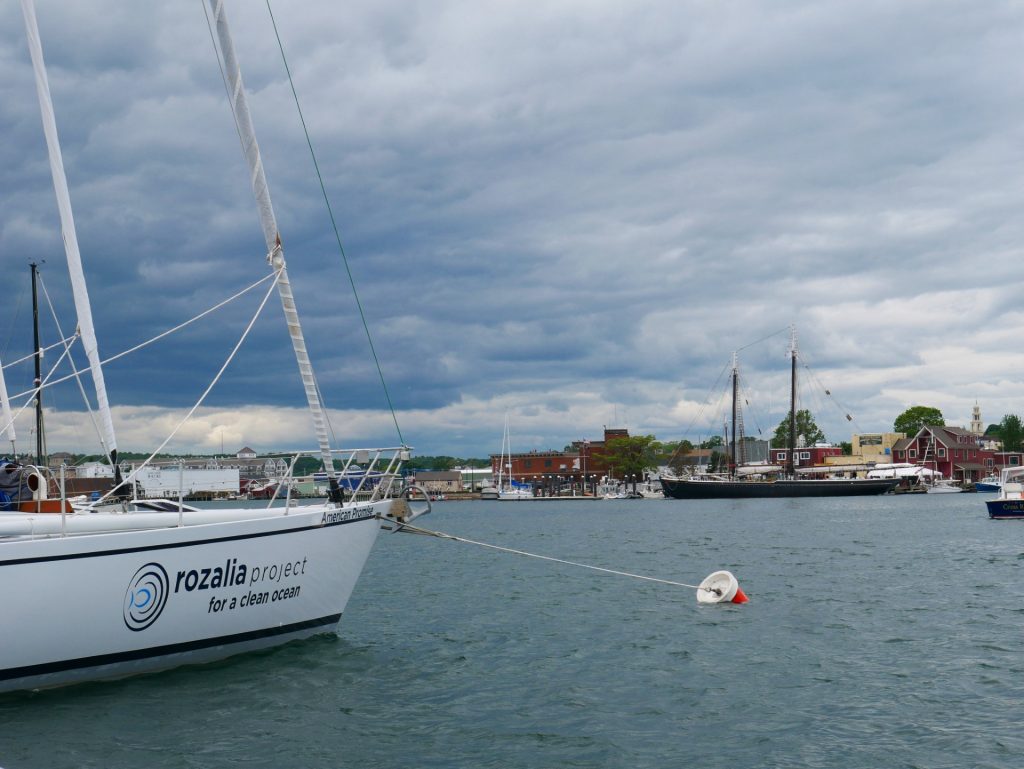 Co-founded in 2010 by National Geographic Explorer Rachael Miller, The Rozalia Project for a Clean Ocean works at the nexus of the ocean plastics crisis, executing educational programs, marine debris cleanup and research from its home base on the oceanographic sailing research vessel named American Promise. Since the organization's beginnings, its ocean protection-based mission, reach and results have attracted the support of values-aligned brand partners, seeking to make a difference.
The partnerships
Increasingly, brands are making conscious decisions to interweave their sustainability values into their marketing strategies. A 2021 Ipsos report found that climate change and standing up for social issues are the top two expectations consumers have of businesses. Seven in ten people globally say they now tend to buy brands that reflect their personal values and that business leaders have a responsibility to speak out on social issues. Patagonia, a longtime Rozalia Project partner, is well known (and celebrated) for leading with its sustainability story, centering it in marketing to attract environmentally conscious customers. The brand is refreshingly upfront about its environmental impact and ongoing sustainability journey. Recognizing and acknowledging that its fleece products shed microplastics, Patagonia not only commissioned a study on microplastic waste, but partnered with the Rozalia Project to help raise awareness for the problem of microfiber pollution.
Recycled consumer products maker Preserve partners with Rozalia Project on education and outreach and marine debris cleanup programs. Preserve products are made from 100 percent recycled plastics and plant-based materials. The company's story is rooted in sustainability and circularity. That narrative is the pillar of the company's positioning and central to its marketing.
"Preventing plastic waste is at the core of our values," said Eric Hudson, CEO of Preserve. "Capturing plastic before it enters the ocean is key to tackling the ocean plastic crisis. The Rozalia Project's education and outreach align with our Preserve Ocean Plastic initiative (POPi). The work is critical to inspiring behavior change and increasing recycling participation."
In 2021, RELiON Battery, partnered with Rozalia Project to upgrade the research vessel's lithium-ion battery system, which is charged via the boat's wind turbines, solar panels and hydroelectric generator. The new batteries give Rozalia Project the ability to work for longer periods of time in remote areas of the ocean.
"Partnering with Rozalia Project furthers RELiON Battery's commitment to give back to non-profit organizations fighting for a healthier and more sustainable environment," said Danielle Ferguson, brand marketing director, RELiON Battery. "Rozalia Project's boat, the American Promise, is one of the most environmentally friendly sailing research vessels in the world, aligning well with our sustainability values, making our partnership a natural fit. We've upgraded their boat's onboard lithium power batteries to help the crew continue to reduce its carbon footprint and we're honored that our batteries help power their expeditions."
The success
In turn, Rozalia Project's brand collaborations help the organization with the goals of its mission. Whether by staff showing students examples of recycling and reuse via donated Preserve storage containers in the boat's galley, illustrating how clothing manufacturers like Patagonia are tackling the problem of textile waste with innovative materials solutions like the recycled fabric Patagonia uses in many of its garments, or explaining clean energy at sea and the lithium-ion battery system.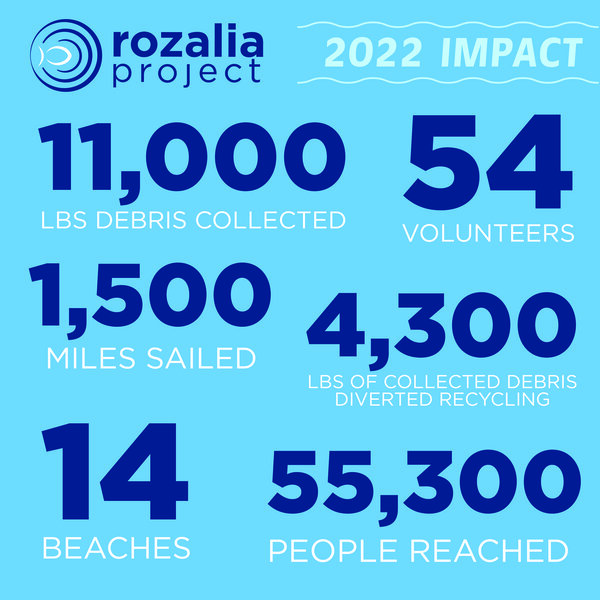 "We're a non-profit organization. The reality is that to do the important work we do, we rely on the support and funding of donors, especially brand partners. But our corporate partnerships are beyond transactional. As it pertains to marine debris, corporations and their supply chains are often responsible for the production of consumer product goods and product packaging. Unfortunately, a lot of what's produced often ends up as litter in our ocean. The Rozalia Project is on the frontlines of the marine debris crisis. We see these materials in harbors, watersheds, remote areas of the ocean and on the shores of coastal communities. It has devastating impacts on the environment and marine life. We have taken partners on expeditions to see for themselves. Brand companies have an important role to play in solutions, both throughout their supply chains and at a product's end of life. They are uniquely positioned to drive meaningful and significant change," Sullivan said.
Now in its 13th year, the Rozalia Project is embarking on its biggest expedition season yet, with seven planned expeditions for summer 2023 and a new partnership with the Center for Coastal Studies to recover and recycle abandoned "ghost" fishing gear, with funding from the National Oceanographic Administration (NOAA) through the Bipartisan Infrastructure Law and leveraged funds from the Inflation Reduction Act (IRA).
With the expanded reach, the Rozalia Project envisions a future with more brand partners invested in the work. Partnerships enable full-time staff and the rotating crew of volunteer educators and guest researchers to reach more communities, clean up more ocean plastic and add to the growing body of marine debris research.