The assassination of Shinzo Abe, former prime minister of Japan, threw a chilling spotlight on the incessant violence in the United States. Gun violence is a rarity in Japan, whereas in the U.S., not a minute goes by without the threat of gun violence.
Some time ago, I found myself walking on a crowded downtown street when a young brother asked me what time it was.
I quickly answered without looking at my watch, as I know the street hustle in which someone asks for the time and then proceeds to rob the unwitting victim.
"8:30," I said without breaking my stride.
"What's your rush, man?" he asked.
I thought it better not to engage.
My antagonist was not having it. He kept at me with a torrent of expletives that stopped me in my tracks.
But when I stopped, he took that as an act of aggression.
"What you got to say?" he posed— while showing me the gun beneath his shirt.
I couldn't say much because my heart was in my throat. Fortunately, one of the youngins with him diffused the situation.
"Keep steppin', mister. My man's just trippin'."
It's amazing that these types of encounters are happening every day on streets throughout the country. Unfortunately, many of them don't end as peacefully as mine did. Many of us are on edge about so many things (the pandemic, politics, racial strife), that the hairpin trigger response can escalate from conversation to confrontation in a matter of seconds.
We would all benefit if we would take a beat to allow calmer heads to prevail in our interactions that could mean the difference between life and death.
One of the greatest lessons of this occurred more than a dozen years ago when noted historian and educator Dr. Henry Louis "Skip" Gates, Jr., was famously arrested for attempting to enter his own house. After returning from a trip overseas, Dr. Gates came home only to find himself locked out of his residence in Cambridge, Massachusetts, near Harvard Square.
His taxi driver attempted to help him gain entrance. A passerby called police, reporting a possible break-in after describing to 911 "an individual" forcing the front door open. A Cambridge police officer was dispatched, and the confrontation resulted in Dr. Gates being arrested and charged with disorderly conduct.
The charges were later dropped, and the incident attracted worldwide attention – including the attention of then-President Barack Obama. The president invited Dr. Gates and the arresting officer to the White House for a beer and conversation about the incident and the state of race relations. The sit down was dubbed the "Beer Summit" and provided the country with an example of how conflict can be transformed into life lessons that can teach us how to better live together.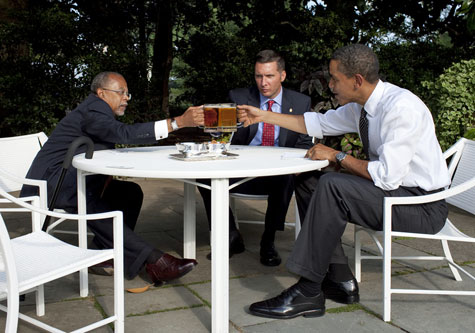 Ever since that day, I've had the privilege of participating in an annual Beer Summit that takes place every summer in Philadelphia. Typically, hundreds of people are convened by Global Citizen — the nonprofit that organizes the annual King Day of Service as the largest one-day commemoration in the country — to share a beer and conversation about issues related to race. Just this past month, I facilitated a virtual beer discussion on the role that white supremacy plays in the violence that is plaguing cities across the country and what we as individuals and organizations can do to turn the tide.
While every Beer Summit has been powerful, informative and inspirational, it can sometimes be frustrating when we seek solutions to problems like this that seem to persist despite our best efforts. But persistence is precisely the point. While it's been said that "talk is cheap," every bold action starts with dialogue that gives us the courage and endurance to keep pressing forward.
During this year's summit, a father recounted how his 19-year-old son was senselessly gunned down just days before this gathering. He talked about how the pain of his loss compelled him to tell the story of this promising life while urging all of us to work on every level possible to turn this epidemic of violence around. As a father myself of two young-adult daughters, I couldn't imagine the anguish I would feel if I had to endure what this father had experienced. Like him, I would probably spend every waking moment trying to bring the killer of my child to justice, honoring the tragedy by working even harder for peace on our streets.
The solutions we seek are right within us to treat each other in a more humane and empathetic way. It seems so simple, but yet so true. Many of us live by a creed that says, "Seek first to understand and, in so doing, you'll be understood." If more of us would take the time to understand someone else's anger and pain to approach each other with a greater degree of humanity, we could have less violence and more peace.
It can all start with raising a glass with one another to start the conversation that can lift us all to a better place.