Community news outlets that serve BIPOC communities have a new supporter in The Pivot Fund, a venture philanthropy organization with the aim of investing $500 million in such startups.
Founder and Principal Tracie Powell said that's a fraction of the money that goes in support of such outlets, many of which could do more of their good work, and do it better, with help. Based in Atlanta, The Pivot Fund plans to offer capacity building and technical support, as well as direct general operating grants.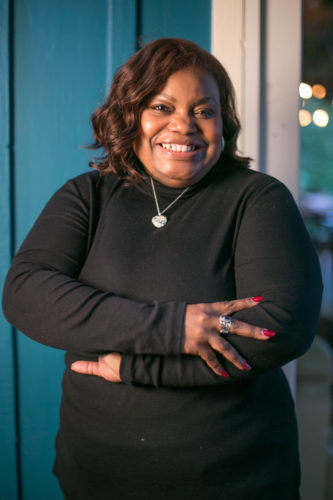 In the run-up to The Pivot Fund's official launch in January, it is raising money, hosting webinars on board development, and providing one-on-one coaching from experts in development, newsletters and product, Powell said. 
However, she said, "before we even get to capacity building, for legacy news organizations, they need culture change. And for new-start, or early-stage [news outlets], they need culture building. And then we can start adding capacity and digital transformation."
That's because "legacy organizations are still heavily reliant on print; they've been largely left out of the digital conversation that's been happening over the past two decades," and are falling behind as print advertising dries up and would-be consumers move from print. "So, we have to catch them up," Powell said.
Concurrently, "More veterans – really, really powerful veteran journalists, Black journalists and journalists of color – were leaving corporate newsrooms, and either they were leaving on their own, or they were pushed out," Powell said. "And they were starting their own thing, and I said, 'We need something here for those folks.'"
Powell's background is in finding ways to support such new voices. A reporter, columnist and editor herself, Powell founded All Digitocracy in 2013, which focused on the intersection of technology, media and diversity. She was a senior fellow at Democracy Fund from 2016 to 2019 with its Public Square Program, and a program officer at Borealis Philanthropy, where she launched the Racial Equity in Journalism Fund in 2019. That fund awarded $2.3 million in grants to 16 news outlets that serve BIPOC communities in 2020; in 2021, it awarded $3.6 million in grants emerging to 28 outlets.
However, Powell estimates that barely one percent of philanthropic dollars available for journalism flows to small outlets, with the lion's share going to places like ProPublica or the Center for Investigative Reporting. With All Digitocracy, Powell championed startup outlets such as MLK50: Justice Through Journalism, Sahan Journal and Documented. 
"These are the kinds of organizations that are immersed in the communities," Powell said. "They have a trust from the community, they have relationships with the community" that major organizations don't. "You know, some of these dailies, the dailies and big regional papers, would kill to have the kind of relationships and trust that these BIPOC organizations have," she said. 
Powell said they have built that trust by being relevant. "Journalism no longer means or no longer looks like a 1500-word story, or even a 500-word story. Journalism looks like what the community tells us it needs to look like for them to survive, in order for them to make it from day to day," she said. "And for a long time, journalism – Big J Journalism – did not listen, had not listened, and so they have alienated those audiences."
She cites Sahan Journal in Minneapolis, established by Mukhtar Ibrahim, a former reporter for the Star Tribune and Minnesota Public Radio News, and how it covered the trial of former Minneapolis Police officer Derek Chauvin, convicted in April of the 2020 murder of George Floyd. Key evidence in the trial and in the court of public opinion was a cellphone video of Chauvin kneeling on Floyd's neck for nine minutes until he died. 
"Sahan Journal was the very first outlet to report on that video, on the existence of that video," Powell said. "In fact, that's the first place that many folks learned about it was Mukhtar Ibrahim's Twitter feed, because he posted the video." But "he didn't use his platform, his news outlet, to re-air, re-air, re-air that video." Instead, Sahan Journal covered another police killing that happened in a Minneapolis suburb while Chauvin's trial was underway. 
Also, Powell said, "he used his platform, Sahan Journal, to help residents who had been displaced by the tear gas and the rioting find safe spaces. He used his platform to imagine what justice, real justice, would look like in that trial. In other words, he was of use and of service to the community. He reflected their concerns, their beliefs, their thoughts. And he created a conversation there that wasn't being had anywhere else in Minneapolis, let alone in the United States."
Powell also cited MLK50, launched by former Memphis Commercial Appeal columnist and editor Wendi C. Thomas. MLK50 began in 2017 as a commemoration of the death of the Rev. Dr. Martin Luther King Jr., and continued with a focus on poverty, power and public policy in Memphis. Thomas' award-winning reporting revealed that the Methodist Le Bonheur Healthcare hospital was one of the most aggressive debt collectors in Tennessee.
"And she reported on that without fear," Powell said. "And based on that reporting, what grew out of that reporting, is that Methodist hospital ceased its debt collection, suspended its debt collection and canceled $11.9 million in debt for some of the poorest and working-class people in the community." Methodist Le Bonheur also raised wages for its lowest-paid employees to a minimum of $15 an hour.
"So that is to show you the kind of impact our organizations can have, if they are properly staffed and resourced. And that is what we are about" with The Pivot Fund, Powell said.