Last night, Black Star Network's Founder and Owner Roland Martin sat down with Black media owners to discuss and address the lack of action from larger agencies and companies on financially supporting Black-owned media.
The discussion first addressed the lack of transparency from major companies that refused to divulge specific dollar amounts and receivers as a means of their company policy. All of whom, however, claimed to either be on track or have met and exceeded their promises from 2020 after the murder of George Floyd.
"We've been getting screwed for all these years," Martin said. "I'm supposed to now trust that [you guys] are hitting your numbers?"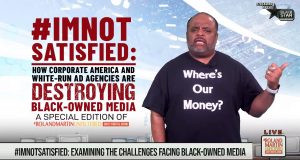 The reluctance to share specific numbers and recipients is frustrating for multiple reasons.
First and foremost, Martin said that these same agencies and companies are asking Black media for full disclosure of annual performances and revenue while denying them the same privilege and respect.
The biggest frustration is that the refusal to disclose specifics makes the role of accountability difficult. With no way to track dollar amounts due to disclosure policies, the ability for the public or Black organizations to accurately question and analyze the data becomes more difficult.
Martin also highlighted the fact that some agencies aren't necessarily the ones giving out the dollars. Target, for example, gave financial backing to Martin's Black Star Network but it wasn't through Smith contacting them directly.
Instead, Martin received funds through one of Target's clients who requested that the agency give his network money. It underscores the importance of connections and relations, and the change in conversation dynamics in which contact with handlers rather than direct executives seems to be more effective.
Coca-Cola made a promise to give $500 million over 5 years to Black-owned media. Martin said that he received funds from them in 2021 and 2022, and the money is more than any other company or agency.
However, despite the years-long relationship with Coca-Cola and two-year-long meetings, Pepsico has not given anything to Martin. Pepsico, along with other major companies and agencies, funded Quibi – a streaming service that raised over $1 billion from investors despite the lack of metrics and success rate.
The streaming service did not last long, but it begged a frustrating question from Black professionals and owners in media: why?
"I [have to] ask the question: Pepsico, how do you give Quibi money with no metrics, [and] no data?" Martin said. "I've got four years of data!"
Another point that Martin and his panel touched on was the lack of resources given so that Black-owned media can thrive. Most deals made with big agencies and companies are on a yearly basis, requiring Black owners to constantly re-sell their company or organization's worth and restrict their employment growth.
Multi-year deals are important, Martin said, because it allows Black owners to project their company's income – creating jobs that they know will last the length of the funding. When owners are put on a year-to-year deal, they become slightly anxious about whether they'll have the same funding as the previous year.
"I'm tired of Black-owned media being in survival mode instead of thriving mode," Martin said.
Low-balling Black-owned media is also an aspect of the financial struggle.
WVON CEO Melody Spann Cooper said that her $300,000 offer to Blue Cross Blue Shield was met with a $20,000 test case. Cooper denied the offer.
"When you talk about these numbers, that's the insult level," she said. "This is not about social justice — this is somewhat about social impact — it's about investment. Call it what you call it for the white people. Stop doing charity with us."
Other Black-owned media have also called out the lack of support, and action of big companies and agencies.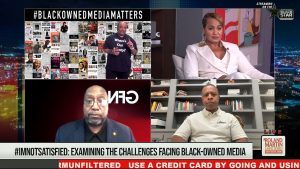 Bryon Allen, founder and owner of Allen Media Group, sued companies like McDonald's for what he says is below-market support of Black-owned media. The case is still in court and has yet to be ruled upon or settled.
In September, Allen threatened to sue additional companies for their lack of financial support in Black-owned media.
Martin also announced on the broadcast that the lack of transparency and action has pushed him to request an accountability initiative to target companies that promised $50 billion to the Black community.
"Black America will not change unless we change the economic paradigm, and that means dollars," he said. "This is silver rights, not just civil rights."
A Target spokesperson shared the following statement with Marcom Weekly, "In 2021, we pledged to spend 5% of our annual media budget with Black-owned media companies. By the end of 2022, we exceeded that goal and forged successful partnerships with Black-owned media platforms, including REVOLT and Essence, and with publishers in the Twin Cities area, among others. We recognize the responsibility we have to use our size and scale to have a positive impact on our guests and the communities where we do business. Our commitment to supporting Black-owned media companies allows us to reach our guests through platforms that are hyper-relevant to them and to be a catalyst for change in the media industry. We remain committed to our industry-leading pledge to spend 5% of our annual media budget with Black-owned media companies."
As of the publishing of this article, Pepsico and Blue Cross Blue Shield have not responded to Marcom Weekly's request for comments on Martin's broadcast.
The entire Roland Martin Unfiltered episode aired on Black Star Network including its YouTube channel.