Burger King is ensuring that customers can have it their way with a striking new restaurant designed for the COVID-19 era.
Eating out has taken a significant toll on the entire restaurant industry, as wary diners and state regulations have impacted restaurants across the country.
To help combat this, Burger King has designed what it has described as the "restaurant of the tomorrow," which will feature a number of safety measures and designs in order to make eating out not only safer but more enjoyable as a whole.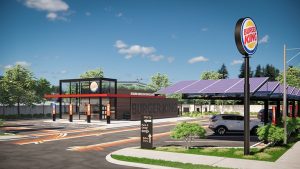 The new restaurants will include drive-in areas where food will be delivered directly to customers, pick-up lockers, dedicated outdoor dining areas, and a suspended kitchen and dining area.
The new restaurants will launch in Miami, Latin America, and the Caribbean first.
"We took into consideration how consumer behaviors are changing and our guests will want to interact with our restaurants. The result is a new design concept that is attractive to guests and will allow our franchisees to maximize their return," said Josh Kobza, chief operating officer, Restaurant Brands International.
With COVID-19 still raging around the globe, the new restaurant design will offer diners peace of mind while also remaining viable after the current crisis has passed.
They will also focus on sustainability with a 60 percent smaller physical footprint than a traditional Burger King restaurant.