After graduation in 2001 from Northwestern University's Medill School of Journalism, one of the leading schools in its field, Ashli Sims, applied to work as a reporter at more than 200 news organizations — to no avail. Sims said she was told stations had hiring freezes after 9/11.
In 2002, Sims was working at a clothing store in Tulsa and sitting around the house a lot when her mother made a suggestion. Sims says this is the part of the story when she tells people to listen to their mothers. After much protest, Sims took her mother's advice and applied at KOTV, the local CBS affiliate, and got a job as a part-time assistant producer or what was often called a tape runner.
In those days, videotape was used to edit and save stories. News anchors would introduce news stories for playback live during the show. Essentially, a stack of videotapes was set up in order of placement during the news. Sometimes stories weren't always finished before the news started so an assistant producer's job was to run it from the edit bay to be placed in the stack for airing, thus the name runner. Think of the movie "Broadcast News."
Sims was determined to work her way up and decided to make herself indispensable. She knew how to do the work but just needed an opportunity. One weekend, a story was needed, but they didn't have a reporter to go cover it. Sims volunteered to get the story and write it so the anchors could read it over whatever video she could get. (It sounds like today's mobile journalists or Mojos.) Because the story was well done, the station made her a full-time field producer. Two seasoned storytellers, Terry Hood and Scott Thompson, mentored her over a two-year period.
Sims still had her eye on a reporting position, but she says it seemed as if the station had its "quota" of Black reporters, one. Or she was a product of her own success and the managers wanted her to remain a producer. Finally, she was given the opportunity after the Black reporter left, as a weekend reporter and then a beat reporter covering education and child welfare. She was also a fill-in anchor on the weekends. After 10 years, one summer of stories about child-abuse deaths took its toll, and she left.
She had done a story about a man running a children's home in Tanzania who kept in touch. He asked her to help him with fundraising. After seeing what the program was doing for children, she was drawn in. She became development director, raising money around the country, in New York and California. She traveled often to Tanzania, staying for several weeks at a time.
And she was good at it. "It's kind of similar to reporting. You tell a story," Sims said. "But instead of throwing it back to an anchor when you finish the story, you ask for money."
Sims said the organization in Tanzania was rebranded. Known as JBFC then, the program is now called Mainsprings: The Janada L. Bachelor Foundation for Children Inc. Mainsprings uses a holistic approach to help vulnerable girls with housing and education in two villages in Tanzania. The CEO, Chris Gates, a Tulsa native, founded the organization.
After six years, Sims was back in Tulsa to work for Iron Gate, a longtime non-profit that helped people with food insecurity, for three years.
Last year, the George Kaiser Family Foundation approached Sims to be development lead fundraiser for Build in Tulsa to put money in the hands of Black entrepreneurs. GKFF and the Schusterman Family Foundation are the lead supporters of Build in Tulsa, which aims to transform the city into a mecca for Black entrepreneurism and technology.
The founding director left, and Sims became the managing director. Under Sims' guidance, the program has grown a network of business accelerators to help develop and grow tech startups. Build in Tulsa also supports the fledging businesses with free shared office space and offers "Shark Tank"-like pitch competitions focused on women entrepreneurs. Build in Tulsa also collaborates with a Tulsa partner, Black Tech Street, which shares a goal to create a global technology hub in the city, and with the Coretz Family Foundation.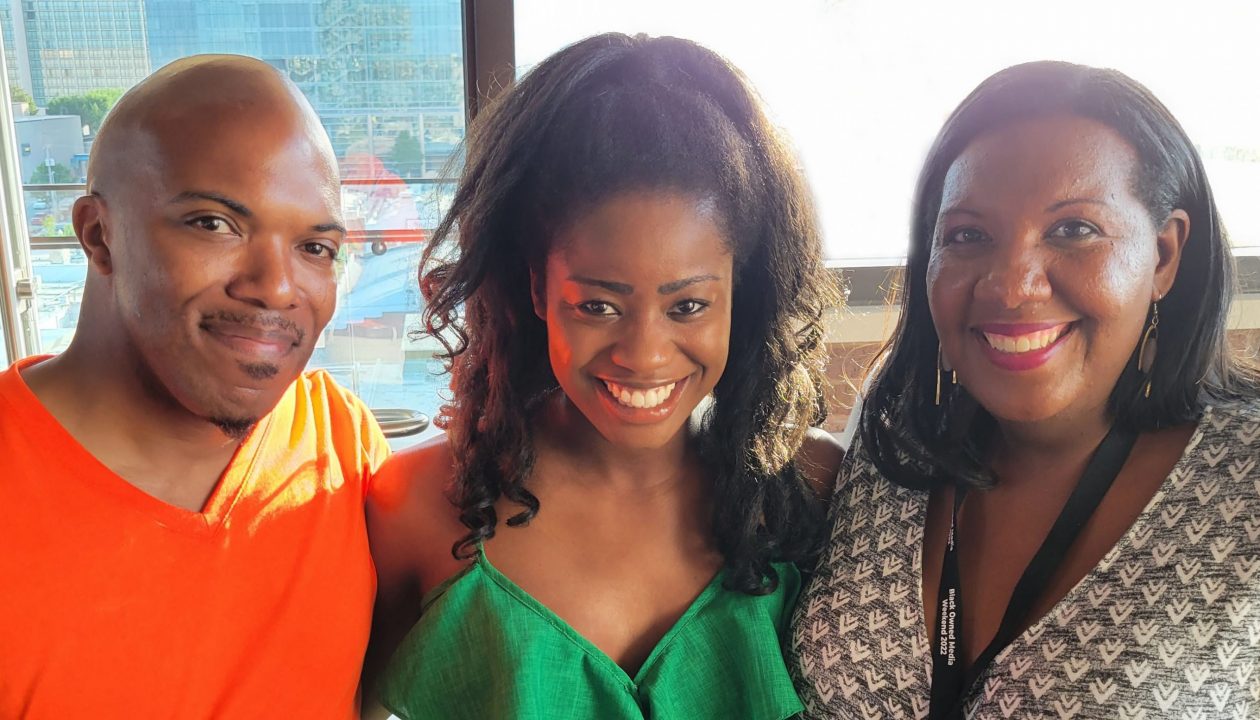 "The Coretz family mission is to improve the quality of life within the Tulsa community, support Jewish culture, close socio-economic opportunity gaps, and revitalize citizenship," said Amanda Morrall, executive director for the foundation. "We are proud to partner with Build in Tulsa to address the needs of our community and ensure economic opportunity for all people. Build In Tulsa has done a lot in a short amount of time with Ashli leading the charge. We are excited to see what they will build in the future."
Nehemiah D. Frank, founder and editor-in-chief of Black Wall Street Times, said it also partnered with Build in Tulsa, welcoming two journalism interns who are both from historically Black colleges and universities.
"Through a grant provided by Build in Tulsa, we were able to secure these students with housing and ensure that their internship was paid, which is rare in this field," he said. "The grant made it easier for them to choose Tulsa for the first journalism internship. Ashli Sims was instrumental in making this happen for us. Seeing more people who look like me who carry the spirit of entrepreneurship that is Black Wall Street brings me great joy and hope for our future in Tulsa. And Ashli, being from Tulsa, is the perfect leader for such a great and promising program."
The recent Black Owned Media Weekend in Tulsa over the Juneteenth holiday was another opportunity to further these goals.
Build in Tulsa was joined by Hewlett Packard information technology and Taboola, the advertising company headquartered in New York City, to sponsor media owners and representatives who convened in Tulsa for the inaugural Black Owned Media Equity Sustainability Institute (BOMESI), June 16-19, the brainchild of entrepreneurs DéVon Christopher Johnson and Rhonesha Byng. The BOMESI founders said the weekend was a huge success, and they hope to return to Tulsa next year.