Tulsa's Black Wall Street welcomed the inaugural BOMESI (pronounced boh-ME-see) Black Owned Media Weekend Conference with open arms over the Juneteenth holiday.
Black entrepreneurs from all over the nation convened in Tulsa, Okla., for the Black Owned Media Equity Sustainability Institute networking conference June 16-19 at the Hotel Indigo and the Agora Business Center.
About 130-plus Black media owners and operators from New York, Los Angeles, Chicago, Philadelphia, Cleveland, Detroit, Atlanta, Washington, D.C., San Diego, Dallas and beyond came to Tulsa not only to meet each other and network but hear about ways to reach brands to do business with Black-owned media.
DéVon Christopher Johnson, one of two co-founders of BOMESI and a man who clearly knows how to take a room when he enters, said, "Black people are brilliant, and we need to hear that from one another."
An independent media publisher himself, he started Bleu Life Media Group 16 years ago. He said people may not know that entrepreneurship means you have to hustle.
He said entrepreneurship is more than "being unemployed with a hobby. You have to be willing to do this idea without any money whatsoever."
Johnson said he often pays himself last. But as a former journalist, he's a storyteller at the core, which he said drives his desire to make sure that Black people see each other.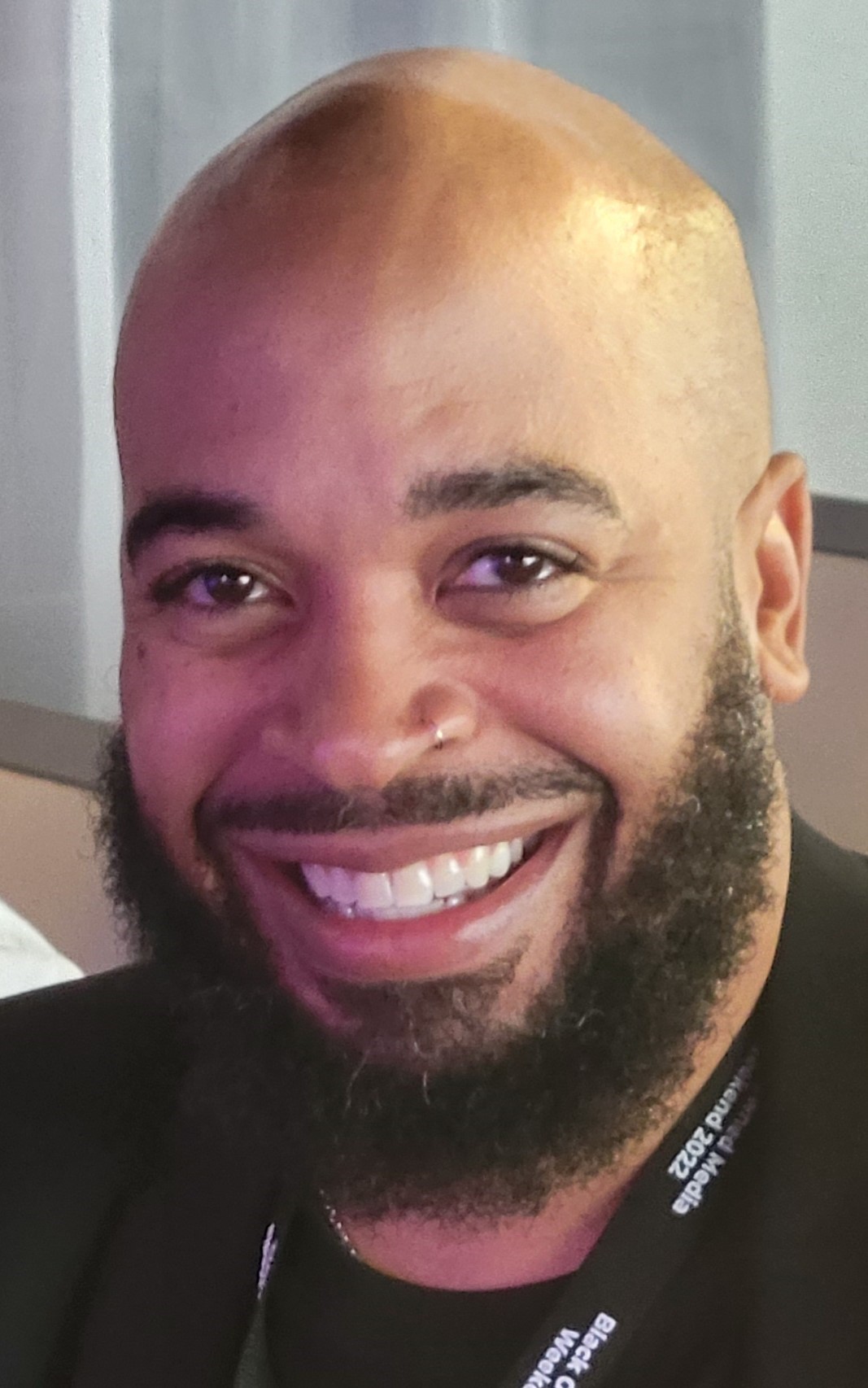 When it comes to the community ecosystem of BOMESI, "If I close the deal, I need to find others to share in it," Johnson said.
That's similar to the Black Wall Street model. You take your money and go to the electrician, who takes the money you gave her to the dry cleaners, who goes to the druggist and so on. That money keeps on circulating, compounding its value with each exchange.
While in Tulsa, the Black entrepreneurs were able to take a Black Wall Street walking tour of the Greenwood District, while the community was celebrating the Tulsa Juneteenth Festival as a newly minted federal holiday with food trucks, artisans, speakers, vendors and music galore.
When asked, "Why Tulsa?" for the gathering, Johnson said he visited friends here learning about Black Wall Street in 2019. He said Tulsa is significant because of the attempt to wipe out Black media during the 1921 Tulsa Race Massacre.
He said he found out that one of the first buildings to burn was a Black newspaper. "If you burn the news source then we never get to know how great we are as a people," he said.
Imagine focusing on an industry charged with producing images of Black people in their truest light across multiple media concerns, marketing, news, etc., sharing expertise that creates an ecosystem of light.
"We have a responsibility as Black-owned media to seek truth and tell truth with diverse stories." Johnson said.
Rhonesha Byng, also a co-founder of BOMESI, is founder and CEO of HerAgenda.com, a 14-year-old digital media platform that bridges the gap between ambition and achievement for millennial women.
Acknowledging that women encounter obstacles and barriers, she said they should not give up or give in.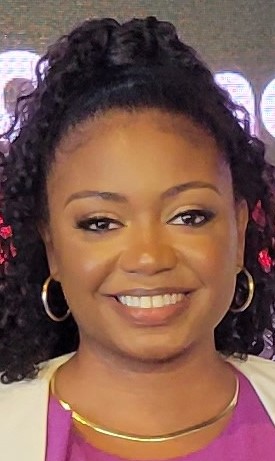 In June 2020, during the heart of the COVID-19 pandemic, BOMESI started through a text conversation between Johnson and Byng about building a community or entity among the publishers and the brands.
Brands needed help finding Black-owned media, and publishers needed help structuring deals with brands that would be win-win opportunities for both sides, Byng said.
BOMESI seeks to be that entity. It is a non-profit with a goal to provide opportunities for Black-owned media to create an industry of $1 billion in 10 years, as Byng put it, that they can not only do business with brands but business with each other.
Byng said BOMESI has an active database at blackownedmedia.org that has grown from 10 companies to 185. Any Black-owned media company can enter its information.
Bernard Bronner, of Bronner Bros Natural hair products and the 34-year-old Upscale Media, may have stolen the show at the first panel of the conference with his own introduction.
Bronner told a story quoting his father who championed the idea of entrepreneurism as saying, "It is better to own a shack than rent a mansion."
The panel, Connecting Legacy and Next Gen Black Owned Media also featured a former Tulsan, Nehemiah Frank, founder and editor-in-chief of the Black Wall Street Times; Lyndsey Farrar, publisher of CRWNMAG (CRWN Magazine, LLC); and the moderator, Charreah Jackson, a media consultant.
Ashli Sims, managing director of Build in Tulsa, was a community sponsor of the event. The George Kaiser Family Foundation is a chief sponsor of Build in Tulsa and helped bring BOMESI to Tulsa.
Build in Tulsa's mission is to lay the groundwork to inspire Black wealth across generations, using technology and entrepreneurship. Sims said a partnership has grown between Build in Tulsa and local Black Tech Street to foster that potential. With Black Wall Street as a backdrop for BOMESI and Build in Tulsa, the fit seemed natural.
LaTasha Gary spoke for platinum sponsor Hewlett Packard about the company's plan for empowered workers, and a culture of inclusion and social justice. HP's aim is to have women be 50 percent of the company's executives by 2025 and to double the number of Black people. She reports that the company already has had a diverse board since 2020.
Representatives of the advertising company Taboola, one of the sponsors, David Katz, director of publisher sales and development, New York, and Paul Valker, senior manager of retail and consumer brand partnership, talked about their role with brands and publishers in the online sector. During the conference, while a panel had begun to focus on the importance of being at the table to ensure proper imaging of Black people and people of color, one of the Taboola team shouted, "and we're hiring." Taboola works to create traffic for a company's content and monetization of that product.
Some speakers and the BOMESI founders pointed out that after the killing of George Floyd in 2020 corporations have talked about their plans to focus on diversity, inclusion and equity, and to increase spending with Black businesses and entrepreneurs. But although many brands raised their hands, not so many stood behind those words.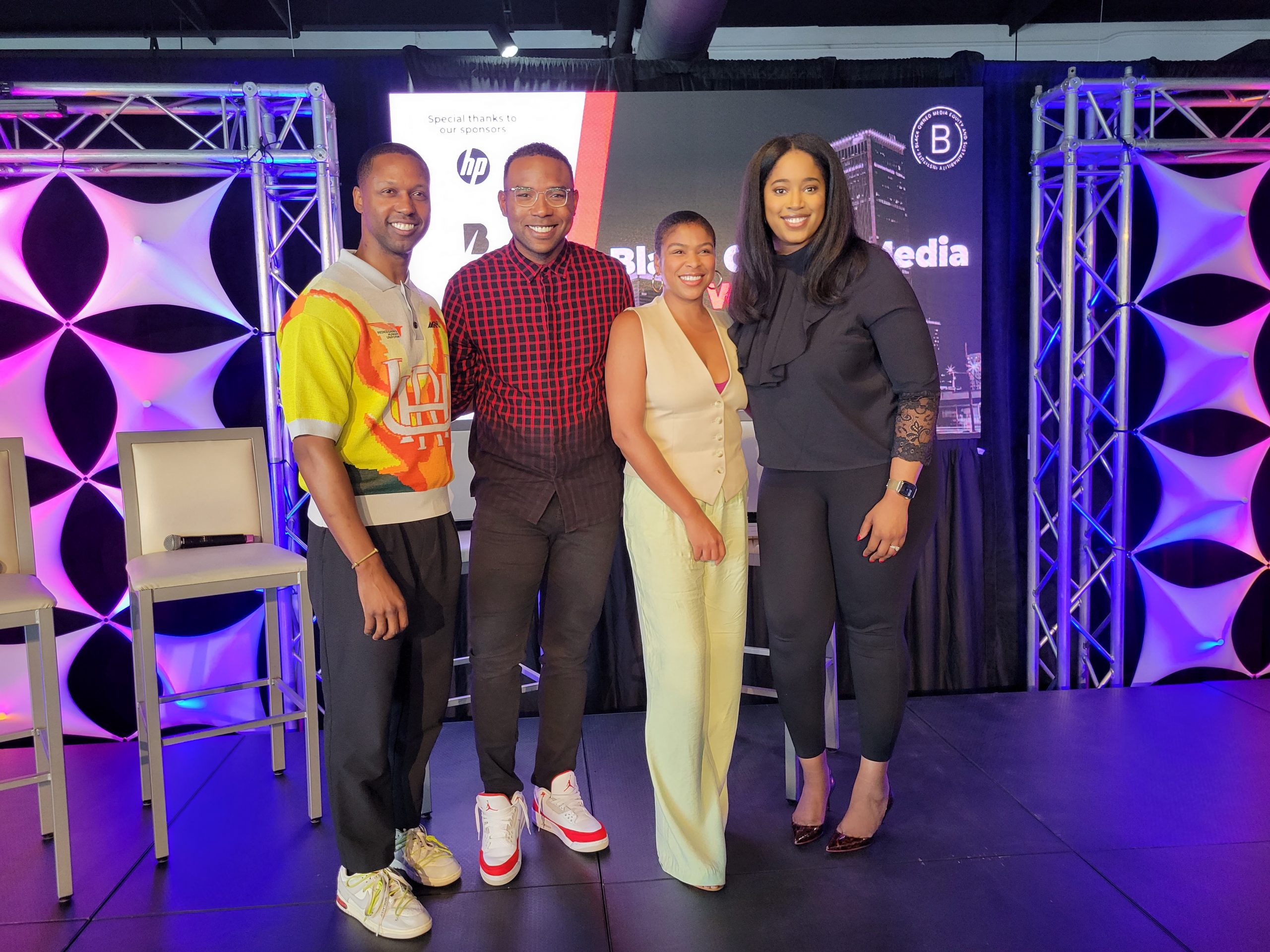 Another panel focused on the importance of Allies Like Us. Marques E. Zak, director of cultural platforms at American Express, said it was important to do your homework about the brand and understand the value your company brings when pitching for a media buy.
"A great pitch is easier to sell upwards," Zak said. "Know how we can really connect."
One of the keynote speakers, Keith Clinkscales, producer, entrepreneur and media executive, founder of KTC Ventures, stressed the importance of the conference to make sure Black media remain vigilant and grow. He said it's not enough to just go after advertising, you have to have a whole game. "Play big…go big. Bring a new way of telling our stories," Clinkscales said.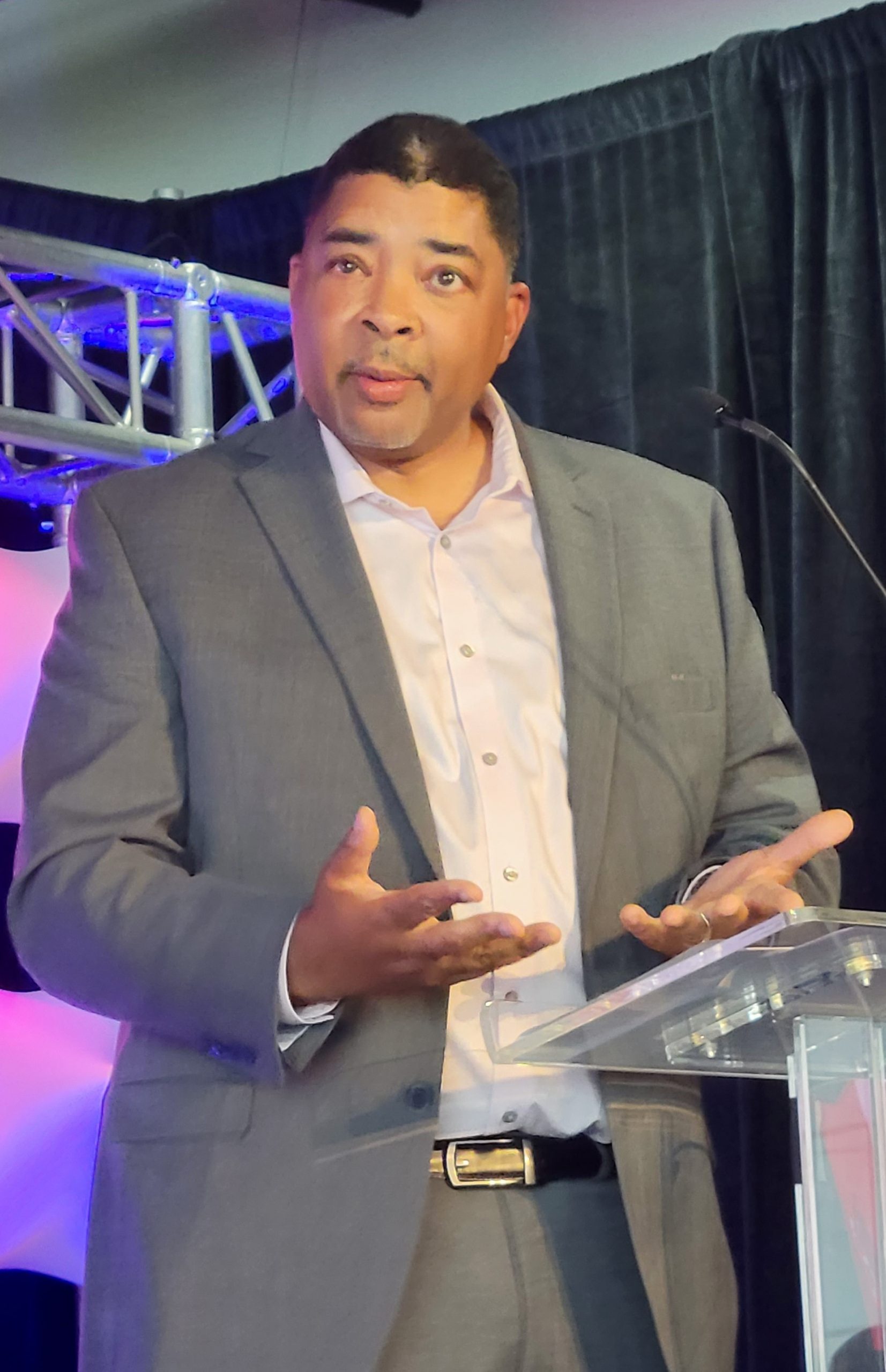 Kyle Rosenbaum, publisher of Marcom Weekly, attended BOMESI from Atlanta. He was very excited about the turnout and the caliber of attendees. He said that this conference was important especially from the networking perspective because it offered brands access directly to entities interested in doing business.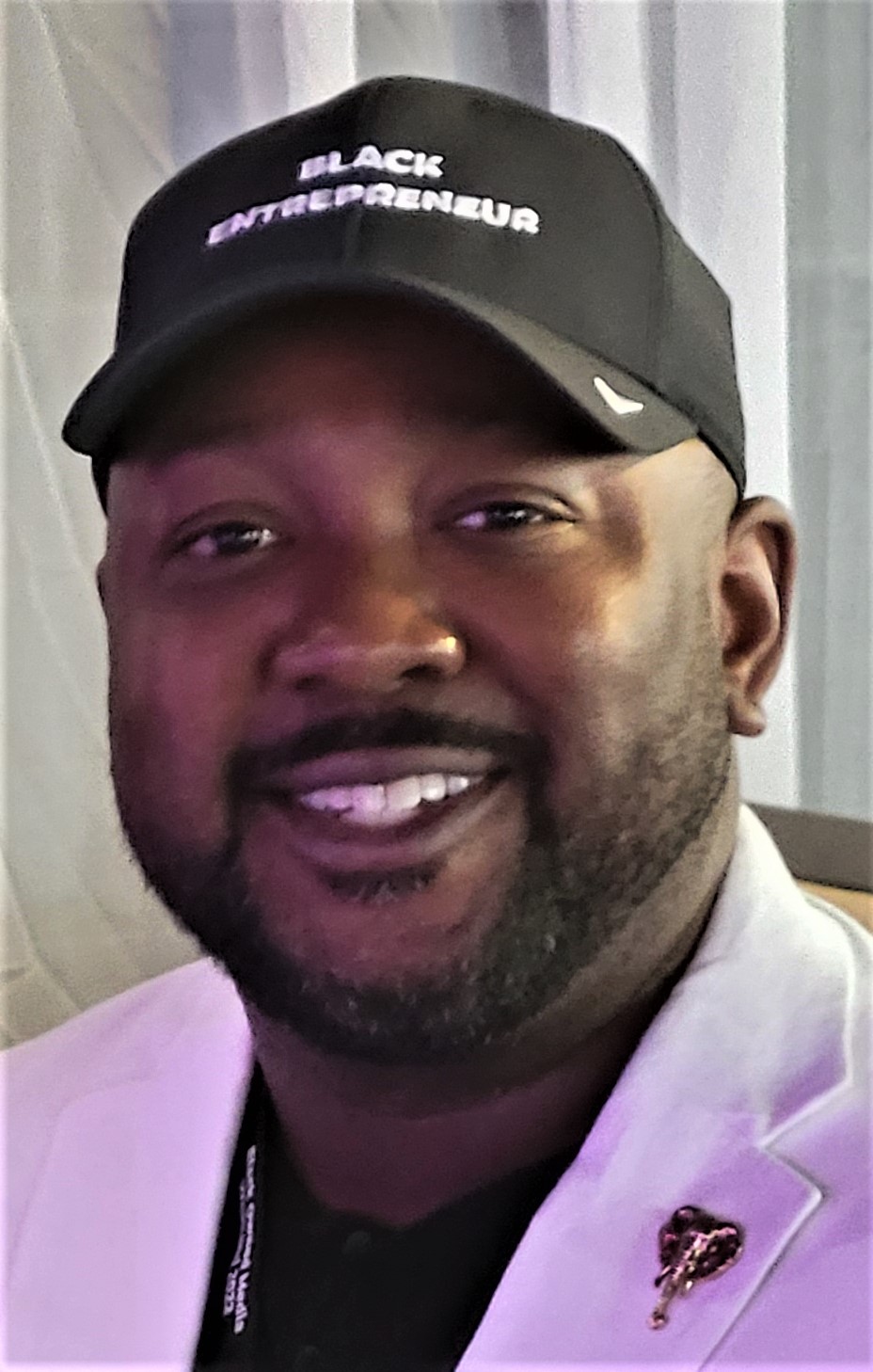 The BOMESI founders were pleased with the results of the conference and said they look forward to coming back to Tulsa next year.
"There are a lot of initiatives around diversity happening," Johnson said. "And I think that's great, but BOMESI is not a money grab. It is not a thing we are doing as part of a trend. We want to shift how Black-owned media is valued by brands and agencies."
Photos by Russell LaCour
Featured image (Top)
Jeremiah Hale, KJMU, Tulsa; Rina Risper, The New Citizens Press, Lansing, Mich. and Ron Calhoun, Cleveland Observer, become acquainted at the BOMESI reception at Hotel Indigo in Tulsa on June 16.